Discover The Lubricants Workplace Trends 2020
Often when we talk about the future of work we focus on how things are changing. Together with prestigious industry publication Lubes'N'Greases, we worked on the 2020 Workplace Trends Report to uncover shifting workplace trends and their impact on individuals and organizations within the Lubricants & Additives industry. The report investigates sentiments, concerns, preferences and career-related interests of those employed in the industry. We hope this paper will serve as a guideline for Lubricant organizations to support their succession planning strategies now and in the future.
The Lubricants workplace is changing
Money, training, advancement opportunity? What comes first as far as job satisfaction is concerned and how to improve a company's position in the market? The report addresses issues that are critical in the management of existing personnel, as well as the recruitment of new hires. The report offers the most robust look at the global Lubricants workplace delivering answers to some of the most prominent questions.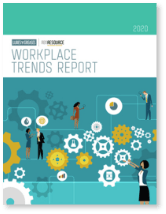 Topics covered in the 2020 Workplace Trends Report:
・ Lubricant professionals – how do they feel about the industry and their job?
・ The industry disruptors – what are they?
・ Managers – why do the most valuable employees leave?
・ Women in the industry – on the rise or not?
・ Young workers – how to find and retain new talent?
・ Compensation – what are salary differences around the globe?
Three reasons to purchase a report
The Workplace Trends Report contains a level of insight that you simply won't find elsewhere. It will allow you to discover key drivers that motivate people within the Lubricants industry, exploit current and emerging trends and understand the risks that could threaten. The report will help you to make more informed decisions to  and let you:
1. Learn how to attract new talent
2. Understand how to retain your current employees
3. Create a work environment desired by young professionals
While organizations are competing for top talent in a tight hiring market, employers must effectively integrate relevant strategies into their workspace to stay relevant as workplace culture & technology rapidly evolves.
"The workplace trends report is the first of its kind, giving readers industry-specific intelligence on the key themes that affect people in 2020. Its the quickest way to get the pulse on feelings in the industry and sentiments are backed with some great fact-based data on important topics like compensation and ways to retain staff" 

ABN Resource Director, James Moorhouse
Want more workplace insights?
Order a full version of the Workplace Trends Report today by clicking the button below. If you are a company in the lubricants market looking for help in finding the right talent for your business, then we would love to hear from you. Give us a call on +44 113 487 7420 or visit our contact page to speak to an experienced recruitment consultant.