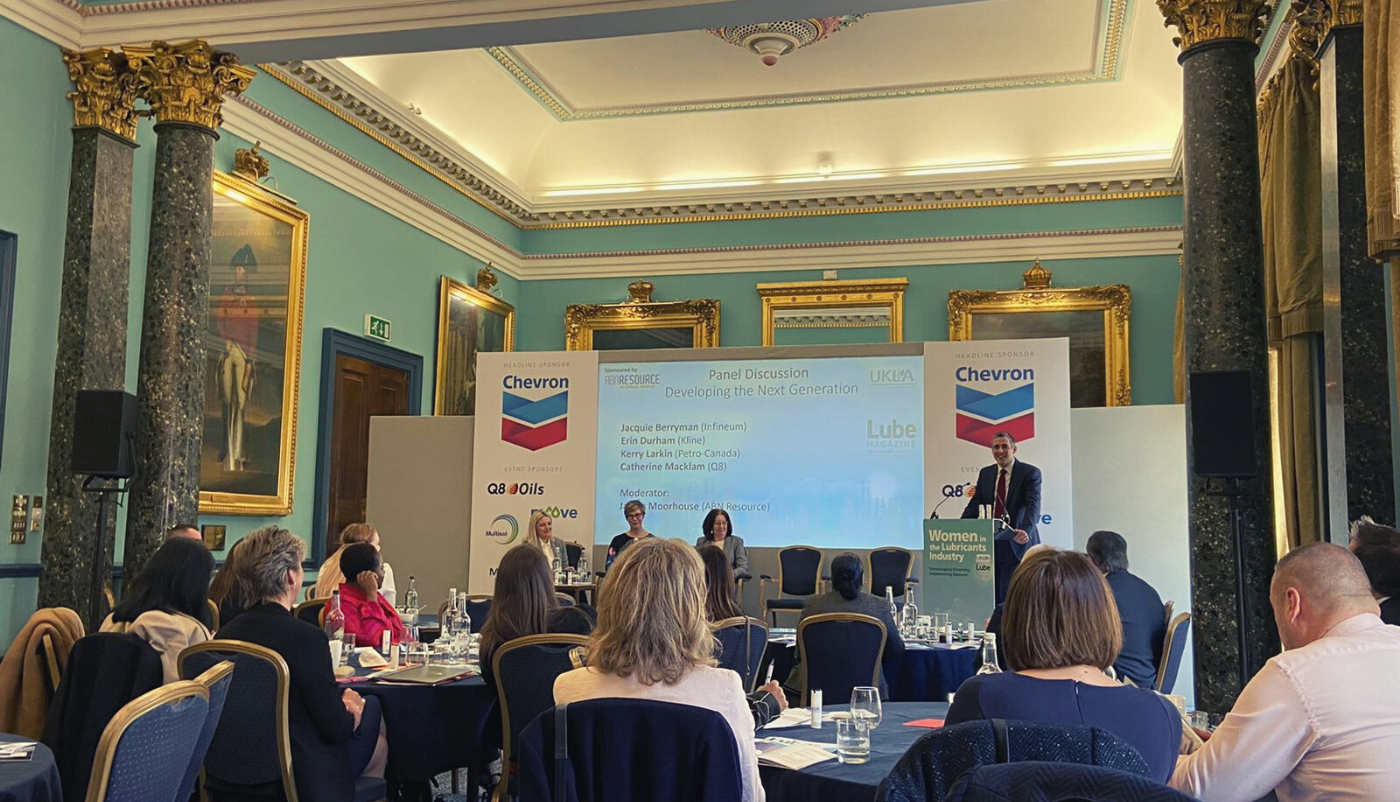 A Day Of Empowering Insights – Women In The Lubricants Industry Conference
Last week, ABN Resource sponsored the inaugural Women in the Lubricants Industry (WITLI) conference in London. The ABN Resource team was in attendance, for an engaging and inspirational day. One of the best event experiences we have had this year!
We would like to share some key takeaways from the event.
Overcoming the Imposter Syndrome
Some fantastic points about mindset raised, but one that caught our attention was "imposter syndrome". The imposter syndrome can be defined as a collection of feelings of inadequacy that persist despite evident success. A number of speakers discussed the impact of imposter syndrome on talent development within the Lubricants industry. We also heard some insightful stories about leveraging it into the positive experience.
"If you can't change a situation, change how you deal with it", said Valentina Serra-Holm
Valentina, who has twenty years of experience in the oil industry, shared her inspirational career journey. She admitted that at the beginning of her career, there were few opportunities in her home country Italy, she decided to relocate to another country to pursue her career in the Lubricants industry. Today, Valentina is a recognised expert in the global base oil industry, cooperating with customers in over 40 countries and president of the UEIL.
Amongst her 16 top tips for a career in the lubes industry, Valentina encouraged women to stand up for themselves and not to be afraid of taking credit for their capabilities and achievements. "Just say thank you not thank you, but..it was my team (or other factors)".
"Confidence is a muscle, we just need to exercise it", Mandy Hickson
Mandy Hickson provides women with support and inspiration in the form of her remarkable story. It is a story that started with dreaming about being a fast jet pilot at the age of 13 and culminated in her leading an entirely male-dominated Front Line Tornado Squadron on operations. In her speech, Mandy mentioned that in order to progress you need to have a natural desire to succeed. This comes back to the point of "the imposter syndrome" that can be used to push your own boundaries and to adjust stereotypical gender limitations.
"Get comfortable with being uncomfortable", she says. That's where you see success!
Setting goals for yourself and getting out of your comfort zone are also a useful step in moving towards a more fulfilling career.
Another factor in success was mentorship. Mentorship was sighted as a key factor that enabled people to shape themselves to the professionals they are today. They are inspiring role models for young women and we need more people who can support, give strategies and guidance on how to become successful in a demanding environment. It was noted that being a mentor and coaching someone, is just as rewarding and provides a similar level of learning to the person that receives mentorship. A great win-win people development strategy that any company can adopt.
Unconscious vs Conscious Bias
Another important topic was unconscious and conscious bias and how that can impact people at all stages of a career lifecycle.
The vast majority of all the WITLI delegates saw no value in quotas or positive discrimination to improve gender equality.  According to Mandy Hickson, organizations should take a closer look at tests and development programs sighting the exam to be a fast jet pilot when she first took the test, was set in a way to work with how a man's brain is configured. And whilst she had the skills, the test was not structured in a way to exhibit a true reflection on her abilities.
Since it is easy for bias, especially unconscious bias, to go undetected, employers and senior managers need to actively identify situations where discrimination could occur and create safeguards to ensure this doesn't happen.
Get in touch if you would like some practical tips to handle this.
Closing the Diversity Gap
Diversity is not only limited to age, ethnicity, race or gender, it also means cognitive diversity to get different ideas and thought processes. A study by Mckinsey of 366 global companies showed companies in the top quartile for racial and ethnic diversity are 35 percent more likely to have financial returns above their respective national industry medians. And companies in the top quartile for gender diversity are 15 percent more likely to have financial returns above their respective national industry medians.
However, what needs to be noted is that diversity without inclusion is not enough to create the right work environment. It involves cultivating organizational norms and behaviours that actively support and encourage employees to bring their individuality to the workplace. And that comes with the right management structure, trust, and flexibility.
Young Generation and Talent Attraction
James Moorhouse, Director at ABN Resource, chaired a panel discussion on how to attract talent to the lubricants sector at the event. We need to develop talent within the sector and keep a steady stream of new entrants to the sector. Organizations should initiate more dialogue with the next generation showcasing their work via social media, or establishing relationships with colleges and universities to engage with talent at the early stages.
Equally, companies who seek to bring more diversity and inclusion to their workplace, need to take some proactive steps to attract more women to the industry. Lubricants organizations need to demystify the industry and women need the belief and insight to understand that the lubricants industry can be a source of an exciting, progressive, rewarding and fulfilling career.
Therefore, we need to ask ourselves what can be done to enable women to become successful in their roles and how to eliminate gender discrimination in the workplace? A key theme emerging here was organizations should put more emphasis on creating an environment where women would be able to find the right balance between work and personal life without sacrificing one or the other.
A question one corporation asked of its male-dominated leadership team: "Would you want your own daughter to be discriminated against and not be given the same opportunities you were given to be the best they can be?" This question is a great example of making the issue personal to spark engagement to the problem and get actions taken to resolve a problem.
Final thoughts – Theme of Confidence
Karl Bradley, the Delivery Consultant at ABN Resource said "there was an overall theme of confidence."
The WITLI conference was an excellent opportunity to promote the industry and the examples of inspirational women reaching more high ranking positions in the typically male-dominated sector should be further encouragement for female professionals entering the Lubricants industry. Let's hope this is just the beginning of a positive change in "the industry that keeps the world moving".
ABN Resource is skilled and has a network to attract the next generation of talent to the global Lubricants industry. Please contact us if you seek advice on your talent attraction strategies.