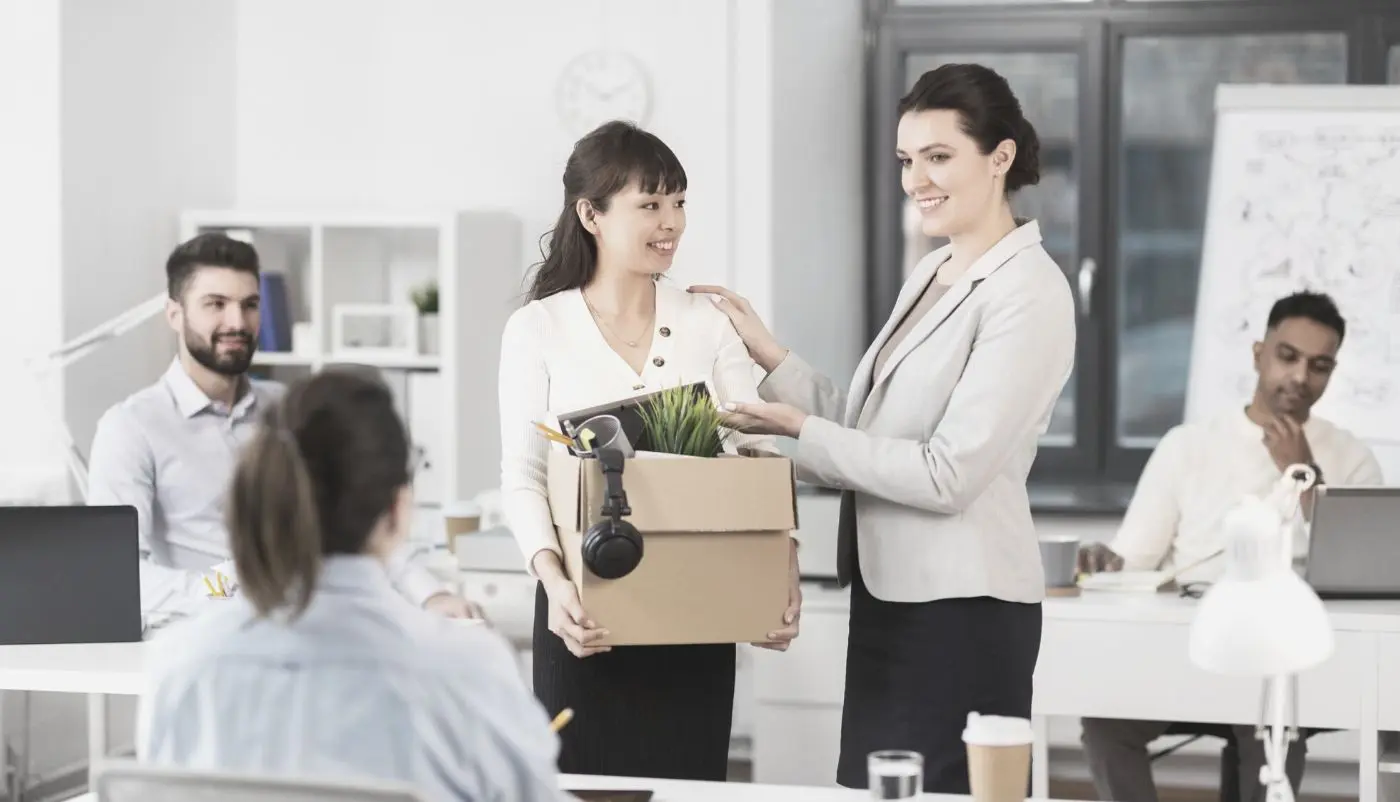 Best onboarding practices for new employees
There's no worse way to start off an employee's experience at a company than giving them a stressful or ill-prepared on-boarding process, one which leaves them wondering 'Have I made the wrong decision?'
An employee's first few weeks (even months) at a new company are when their motivation is at a peak. They're driven by the extra adrenaline and determination to prove themselves – so how do you leverage this and ensure you get off to a good start?
Our experience tells us that employee retention starts from day one, so let's look at what you should avoid doing and what you should do to keep your new employee happy!
Here what to avoid when boarding new staff:
1. Giving them a mountain of paperwork
Remember that first impressions count. Do you want your employee's memory of their first day to be filling out form after form, getting lost in a sea of paperwork? Or would you prefer to look better prepared, having sent out any relevant documents in advance so the employee can arrive armed and ready to hand these over, allowing them to use their first hours of employment more wisely? We'd definitely recommend the latter!
2. The 'we've not quite sorted that' experience
Company car, desk, email account, logins for all platforms – these types of things should all be sorted and ready for use before an employee even sets foot through the door. Otherwise, you come across as not being fully invested in the new individual, potentially leaving them feeling undervalued – which doesn't fair well in retaining them.
3. The 'just get comfortable' approach
We're surprised to hear that, even for the executive level people we place in oil and gas companies, employees are sometimes given a huge block of research time when they start their new employment – such a month to research the company and get familiar with the way things work.
You may be wondering what's wrong with this. Well, when someone starts a new role they're usually keen to make an impact, but not giving them any real value-added tasks in the first weeks or month can be a huge turn off for new employees. Having a good understanding of the company is important but shouldn't mean their new job motivation isn't leveraged – it should be seen as an opportunity for the company. Give them small projects to get their teeth into early on – after all, the best way to learn is actually doing the work rather than purely research.
4. The meeting and to-do list overload
Other companies can take the complete opposite approach to the above, ensuring their new employee's calendars are filled with as many meetings and to do list items as humanly possible, in the first week or month. Being this organised can seem like a good thing, but does it actually benefit anyone?
Unfortunately not. A person can only absorb so much information within one time period. If you overload them with information too quickly, they'll only need to ask questions later on down the line – ones you thought you had covered – which defeats the point and may even cause the employee embarrassment.
What onboarding should look like: 9 ways for successful onboarding
Now that you know what onboarding shouldn't look like, here's what you should do to make your new starter glad they joined, whilst also benefiting the company.
1. Connect them with key individuals from all departments
Whilst you don't want to cram their schedule too full straight away, you should set up some meetings for the new employee, with key individuals from all major teams within the company. This gives them a good oversight of the business and how different teams operate and contribute towards the company's key aims. Not only does this help with making the employee feel more known and welcome within the company, but it also helps to avoid departments working in isolation. Collaboration breeds creativity (and productivity!).
2. Find out why they chose you
Your new employee has likely already explained why they wanted to join the company during the interview process, however, use this opportunity to survey them on the finer details of what attracted them to your business – whilst it's still fresh in their mind. The data from a short 2 minute survey can help you better understand what your key attraction qualities are, and if you're projecting the right message out to potential employees.
3. Send a personalised welcome email
On the employees first day, ask their direct manager to send a company wide welcome email out to all staff. To be really effective in making the employee feel welcome, avoid being too generic here 'team meet Sally' won't do. The email should include a brief overview of the individual and a few key accomplishments they've achieved in their career so far. Even better, ask direct co-workers to respond to this email with their welcome messages.
4. Inform them on the who, the how and the why
Trying to get all the important information across in a mammoth employee orientation session is difficult to achieve (and easily forgotten), but most companies have their own intranet where employees can access useful information. Make sure your new recruit has access to this from day one, and that it contains easily accessible information on:

• All employees and the teams they're in/what they do
• Company culture – including organisations and sports clubs within the company, plus any other group meetings or after work activities they can get involved with. A company welcome or overview video interviewing various staff would be ideal here.
• The company knowledge bank, organised by department. At a time when the oil and gas industry is facing a serious skills gap, it's vital that both young and old employees are keeping a record of key learnings so information can be shared and passed down easier. Think of it as your own company wikipedia!
• Your company values and mission, and how these are used across the business.
5. Find them an immediate mentor
Most companies will set up new employees with a 'buddy' or peer as their go-to person for any questions, but now more frequently we're seeing businesses understand the value of mentorship by creating immediate mentor partners for new recruits. If you've used ABN Resource for your hiring process, then you'll already have a personality assessment of the individual – which should help you with matching them with the right mentor.  
6. Ask for outsider feedback
Now we're not recommending you actually call them an outsider, but before your new employee has become accustomed to the company's set processes and ways of doing things, this is the perfect opportunity to ask them to evaluate and give feedback. Are there any processes which they think could be improved? Do they have any new ideas or better working processes from their previous place of employment? (after all – it's a good opportunity to find out some insider information on a competitor in some cases!).
7. Plan them an early success
Help your new employee to get an early feeling of 'I'm really contributing here' by tasking them with an assignment that they'll likely succeed in. This will help accelerate their feeling of belonging in the company.
8. Organise a team outing
Start the bonding process sooner by organising a group activity for your new hire and their team. This is usually done as a team welcome lunch, but we've actually seen that organising a group bonding exercise is a lot more effective, since it allows employees to work together whilst doing something fun and exciting – cementing them into the team.
9. Find their peer 'champions'
Introduce the employee to a small group of peers who are at a similar level to them. Encourage these employees to then form a champion clan, where they can share struggles and learnings whilst 'cheering' each other on for success.
Final takeaways
These onboarding processes are proven to be effective in getting new recruits settled into their new role quickly without overwhelming them, whilst making them feel valued and allowing them to add value to a company faster. They help set new employees up for success and keep them in your network for longer.
One thing to bear in mind is that every company has its unique way of working and being structured. This means not every onboarding process will work exactly the same for every company – it's about adjusting the process so it works for your business.  If you're a large corporation or a fast-growing company who has new hires every other week for example, it may be difficult to organise the team building exercise for every new recruit – but you can find an alternative way to do this (even if it's with less people in a lunch hour!).
Thanks for reading – see more of our thought piece articles and industry interviews on the ABN Resource blog, or sign up to our monthly newsletter below.
Looking for some world class candidates to onboard into your business? Speak to our oil and gas recruitment specialists today. Request a call back below or get in touch.