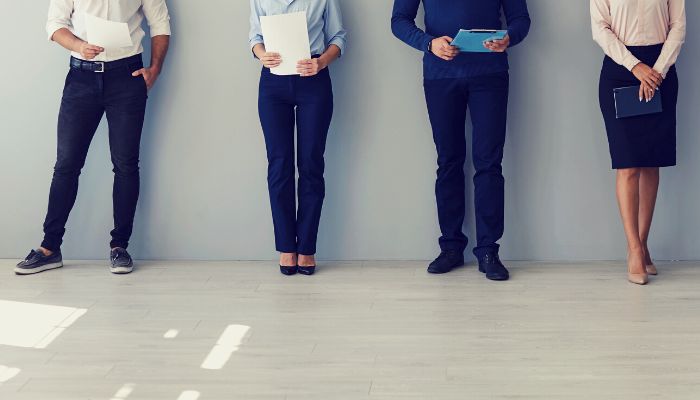 10 Essential Recruitment Statistics You Should Know
─  Are you familiar with modern recruitment and hiring trends?
─  Do you know where potential employees search for job openings?
─  How quickly does your organisation find and hire new employees?
─  Is it possible to find and employ people who possess the particular set of skills and experience you require?
─  Do you have a system in place to track and analyse the success rate of your recruitment efforts? 
─  Are you able to identify any areas for improvement and make necessary adjustments to attract and retain top talent? 
The recruiting data shown in the article may be of interest and use to your company if you are pondering the aforementioned questions.
#1 The average time to fill a new post is 42 days
Filling a vacancy might take many weeks or even months. From posting a job opening to making a final hiring decision, the typical time frame is 42 days, but this can vary across industry, function, and position you are hiring for. 62 days is average to find and hire someone for a technical role. The perfect person is worth the wait, so plan ahead and give yourself time to get the right hire.
#2 One of the most popular channels for job searching is Google
For 70% of job seekers, Google is their go-to while looking for work. According to OnHires, 90% of job seekers locate job openings through social media platforms like LinkedIn, while 43% learn about new vacancies through word of mouth. Therefore, it is important to strategically target these channels and nurture your professional network to ensure maximum visibility and engagement with the desired audience. 
#3 70% of jobs are never advertised
It is estimated that 70-80% of job openings are never advertised publicly. These positions might be filled in-house, via word of mouth, by applicants taking the initiative to seek out, or with the assistance of headhunting firms. Those specialise in identifying and recruiting top talent for organisations, often targeting individuals who are not actively seeking new job opportunities. They very often play a crucial role in connecting qualified candidates with hidden job market opportunities, providing a valuable resource for both job seekers and employers.
#4 The hiring process is stressful for 73% of job seekers
The search for a new job can be very demanding. In fact, almost three-quarters of those looking for work report that the search itself is extremely stressful. That's a considerable number for hiring, but it may be a huge break for your company. Your ideal employee will have a more favourable impression of your organisation and be more inclined to accept your offer if the hiring and onboarding processes are a positive candidate experience.
#5 Having a defined recruiting timeframe is valued by 83% of candidates
Providing job seekers with a detailed schedule can greatly improve timescales to hire and engage candidates more effectively. Take the time to describe the procedure for your team before advertising a job position. In total, how many interviews can the candidate expect? How about its structure? Who will lead them? How long will there be between different interview stages? What criteria will you use, and how will you make a decision? 
#6 Candidates check online for company reputation
Nearly 1 in 7 job seekers check an organisation's websites and career pages before submitting an application. More than half of all job seekers check out employees' feedback and 55% say they turned down the job offer after reading the negative reviews. These statistics highlight the importance of a company's online presence and reputation in attracting and retaining talent. Before you post that job listing, take a moment to evaluate how your business responds to reviews, social media posts, and more.
#7 When assessing a company, 76% of candidates value diversity
Keep in mind that the people you're interviewing are assessing you, too. According to multiple sources, most job seekers take a company's diversity into account when considering whether to accept an offer. Candidates want to work in an inclusive environment that values diversity and promotes equal opportunities. This highlights the need for companies to prioritize diversity and inclusion initiatives in order to attract top talent and retain employees in the long run. 
#8 Flexible working is important to 63% of lubricants professionals
The trend toward remote work is here to stay. According to the Lubricants Talent Report 23, flexible working arrangements are the most sought-after benefit for 63% of professionals. Not only do employees love the flexibility, but it's a great opportunity to broaden your talent pool.
#9 31% of employees are leaving jobs for better pay
According to the ABN Resource Lubricants Talent Report 2023, 31% of job seekers are searching for a better salary, and a whopping 81% of respondents said they are actively or passively looking for a new job. To remain competitive, your firm must provide an appealing wage and benefits package… or risk losing your ideal candidate to a more generous company.
#10 Poor onboarding makes new hires 2x likely to look for a new job
The cost of a "bad hire" (an employee who quits within a year) could be between 3-6 times the salary of that hire! If you want to identify and keep the greatest applicant, you need to take a hard look at your onboarding process. Keep in mind that if new employees have a good onboarding experience, 69% of them will remain with the company for more than three years. On the other hand, poor onboarding makes new hires 2x likely to look for a new job.
What's next?
Recruiting done badly will be time-consuming, stressful, and costly for businesses. The proper candidate exists, but locating them can be difficult. Taking the time to analyse your hiring goals and processes thoroughly can help your organization stand out from the crowd. It's simpler to adapt the experience to your ideal employee when you understand what they actually want—clarity, competitive compensation, diversity, remote work, and a fantastic brand reputation.
If you'd like to discuss your recruitment process, our lubricants & fuels recruitment experts are here to answer your questions. Contact us today!