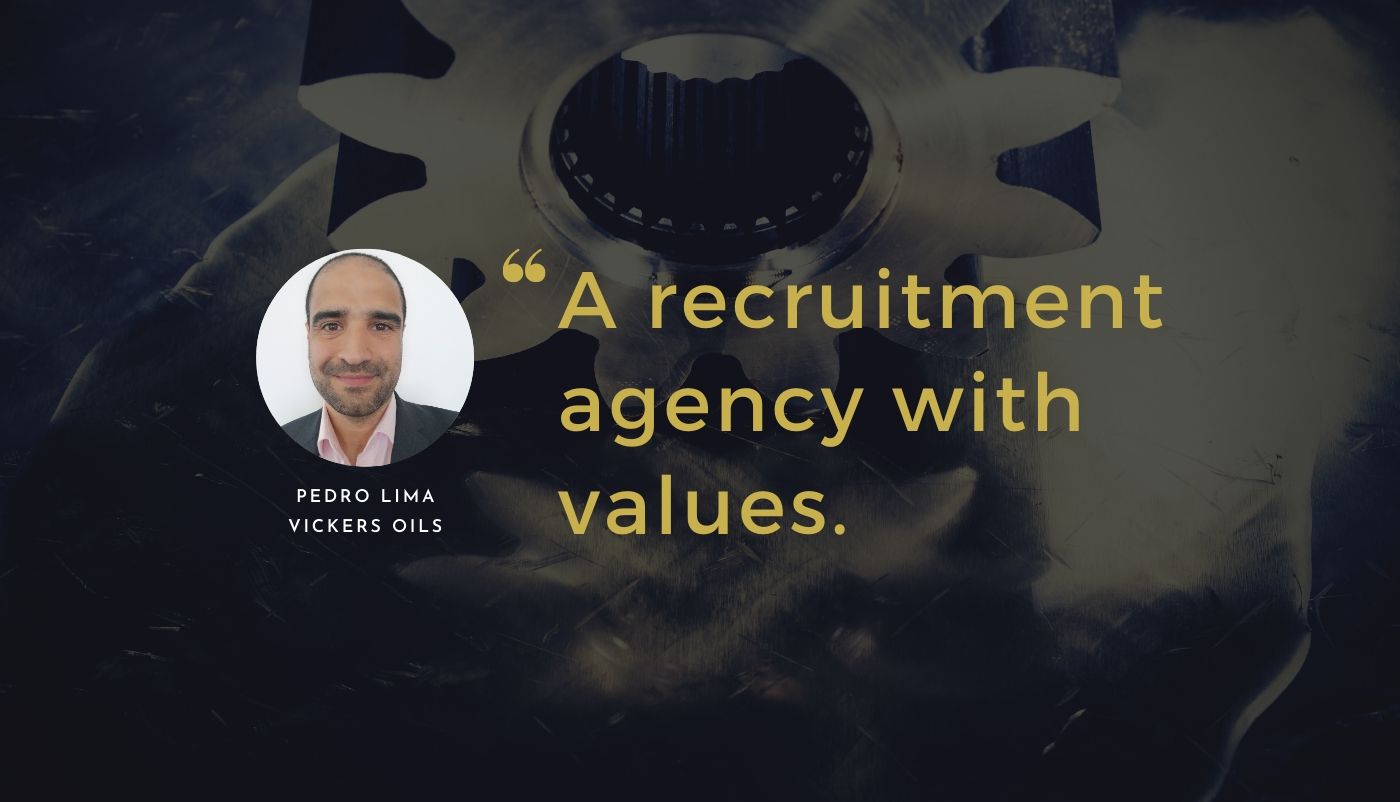 Finding a Job That's The Perfect Fit – Interview with Pedro Lima
As an oil recruitment agency specialising in hard-to-fill roles, we put a great emphasis on the candidate experience and assessment process, to ensure the right match for both client and candidate.
To give you some insight into what it's like to work with us, we interviewed Pedro Lima – a lubricant professional we recently recruited for Vickers Oils. Pedro explains how he got into the industry, how he found our recruitment process and his ambitions for the future.
First, a bit about your background. How did you get into the lubricants industry?
I am Spanish, from Barcelona. Before moving to England in January 2013 I was running my own business with my sister, an estate agents that we established in 1999. When the recession came in we had 3 offices and 20 employees. We managed to keep the business alive between 2008 and 2011, but then I realised I didn't want to do that forever.
How did I get in the lubricants industry? By coincidence. I was actually looking for international roles within manufacturing and chose Leeds as a base, as I was aware of the thriving industry in the north. I also set a deadline: 6 months since arrival to the UK. I arrived on the 15th January 2013. Funnily enough, my first day at Millers Oils was the 15th July!
How has your career progressed since you first started?
I started my lubricants career at Millers Oils, an opportunity for which I will always be grateful for – especially to the people who saw value in me and gave me a chance to get into the industry. At Millers, I was promoted to external sales after only a year of joining, and this is where I decided to pursue a role as a heavy traveller.
After 4 years at Millers, some organisational changes led me to consider a new job in a potentially different sector. This is when I moved onto Triumph Motorcycles, where I stayed for 2 years, learning the pros and cons of working for a bigger organisation. Initially, I never thought I would leave Triumph, but after some time I began to miss being involved in the lubricants industry. My circumstances also changed as I got married and became the proud father of a (now 15 month year old) daughter. So I began to consider new options.
That's when James Moorhouse from ABN Resource came in. He approached me with the perfect fit for me at Vickers Oils, where I've been settling in for the last 4 months. Why a perfect fit? Vickers supply speciality products, where price is not the main discussion. I'm someone who likes selling based on quality and added value. Selling on price is easy – I prefer the more challenging route! The new job also offered me the opportunity to work from home when I wasn't  travelling – something which was an important deciding factor for me, especially with having such a young family.
How long had you been waiting to find your new role?
To be honest, I wasn't actively seeking when I found Vickers. I was just starting to consider a move. It all happened very quickly and smoothly – I have to thank James Moorhouse for that!
How have you found your first 4 months at Vickers Oils? What have been the highlights so far?
Fantastic, very challenging in many ways, and I can gladly say I have been given total freedom to say and do what is best for the common goal of the company. Growth is my main focus, both organically and through new business.
Honestly, the biggest highlight to me is the fantastic people I get to work with at Vickers. The vast majority are long serving employees which gives me a very good impression of the company, and I hope I will be one of these long serving employees in years to come!
I've also appreciated the extra moments with family – it's the small things like being able to have lunch with my daughter and wife. It can be challenging being in a role which requires a lot of travel, especially when you have a young family, but the flexibility Vickers offers has made this easier – giving me a greater work-life balance.
What's the most challenging part of starting a new job?
At the start, it's about making sure you take the time to understand the company values and approach, ensuring you're fully aligned with these. Also getting yourself familiar with your new responsibilities and what's expected of you.
How did you find your experience with ABN Resource and our i-intro platform?
My experience with James has literally been the best experience I have had with a recruitment company. I met James in 2015 and ever since he has only offered me this role and a previous one that was also a very good fit. Other companies just send you anything that has some sort of relevance, and as far as I am concerned, they are not looking for a perfect fit – they just want a commission. James understands that finding the right fit takes time!
In terms of i-intro, I found the platform very innovative. It's something I'd never seen or used before – but it clearly saves both the applicant and employer time!

Would you recommend ABN Resource to others looking for a new job in the industry?
Definitely yes. If I had to rate my experience of ABN Resource on a scale of 0 to 10, it would be a definite 10!
What are you looking forward to achieving in your career in the future?
Being an ambitious individual, I'm keen to find ways to contribute to the growth and progress of Vickers. I truly believe I can do it with the help of my colleagues, as well as my own skills I've developed through the years. I like to feel that anything I do has an impact within the company and of course I also enjoy the recognition for that!
Thank you to Pedro Lima for his sharing his valuable insights and experience. To read more about other professionals in the industry and interesting topics, sign up to our oil & gas industry newsletter below.
Looking for your next career defining role? Find the latest lubricant jobs.